---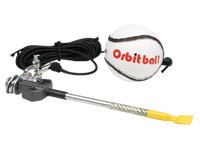 OrbitBall Hurling Trainer
Trying to practice striking from the hand or on the ground, but tired of chasing down sliotars? The Orbit ball keeps you training your striking reps instead of your step count. Simply step on the spike (or use a hammer) to drive it into the ground and you can get to training almost anywhere. 4m (approx. 13ft.) of bungee gives you plenty of length to practice striking from the hand or on the ground in any grassy/soft ground area. The barrel/swivel hardware attached to the spike ensures that the ball's movement stays fluid regardless of how or where you strike it. The Orbit ball isn't just for eliminating sliotar chasing:

Get a running start to simulate striking on the move during matches.
Work on your timing, touch, and reaction speed by trying to play the ball on the bungee's return.
Head to the park and hang it off the monkey bars for a suspended, stationary target to really fine-tune striking mechanics or introduce new players to basic skills.
Looking to add a little more to your team drills? Place an orbit ball just after the active area, for players finish a drill with a groundstrike before getting back in line. It's a super easy way to add in another skill/touch to what you're already working on.
Equipment may be returned or exchanged only when the item is unused. We will supply you with a postage-paid shipping label to return the product. Upon arrival, with all accessory items, a refund will be issued.
Equipment returns are subject to a 10% restocking fee.
Concerned about returns? See our Return Policy for more information