---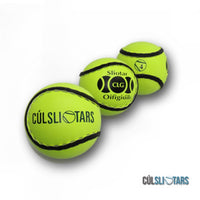 Match Sliotar - High-Viz
Made with High Quality Genuine Leather Cowhide. Waxed rims. Polymer core. Balanced bounce and flight according to GAA rules. Fully GAA Compliant.
Perfect for using under floodlights the High Viz colour is also excellent for using where there is poor visibilty. This high quality sliotar has been used in senior hurling games and the size 4 was used for the Camogie Association All Stars games in Madrid 2017.
Guaranteed: Each ball is hand stitched and we only use a heavy-weight thread specially designed for championship Hurling games. For extra durability it is also dipped in a waterproof coating to ensure it retains its features no matter what the conditions.
This is a High quality sliotar which has been tried and tested in the harshest of conditions and its quality and durability offer our customers real value for money.
Equipment may be returned or exchanged only when the item is unused. We will supply you with a postage-paid shipping label to return the product. Upon arrival, with all accessory items, a refund will be issued.
Equipment returns are subject to a 10% restocking fee.
Concerned about returns? See our Return Policy for more information