---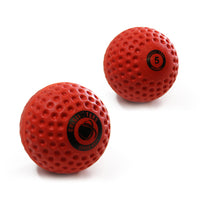 Fire Ball
What We Say:
Faster response and truer flight will ratchet wall ball sessions up to another level entirely! This wall ball provides improved speed from the strike and the rebound combined.
Nothing will improve your skills as much as purposeful practice with a wall ball. This ball stands up superbly to the abrasive surfaces involved that would readily destroy a match sliotar.
Equipment may be returned or exchanged only when the item is unused. We will supply you with a postage-paid shipping label to return the product. Upon arrival, with all accessory items, a refund will be issued.
Equipment returns are subject to a 10% restocking fee.
Concerned about returns? See our Return Policy for more information